Health Minister Nguyen Thi Kim Tien and other guests cut the ribbon to open the first National Medication and Pharmaceutical Products Fair 2019.
The first 2016 National Traditional Medicine and Medicinal Products Fair 2019 co-organized by the Ministry of Health, Ministry of Agriculture and Rural Development in Hanoi from March 20-25, gathered 120 stalls, with Special booths bring the essence of the medicinal region to Hanoi.
Deputy Minister of Health Truong Quoc Cuong said that the fair aims to promote the production and consumption of traditional pharmaceutical materials and pharmaceutical products of enterprises and establishments producing, processing and trading in traditional medicines and traditional medicines. At the same time, it creates a prestigious place to purchase traditional medicines and medicines to serve the shopping and health care needs of the people of the Capital and localities throughout the country.

Ngoc Linh Ginseng Kom Tum is present at the Fair
At the exhibition, the public had the opportunity to learn about the ginseng species called "Quoc bao Vietnam". At an altitude of 2,598m, hidden under the old forest canopies on the mystical peak of Ngoc Linh mountain, Sam Ngoc Linh is really "a treasure of great things".
From the precious ginseng of Kon Tum mountain forest, from more than 20 years, the ginseng plants of Ngoc Linh Ginseng Joint Stock Company are conserved and grown completely natural under the old forest canopy absorbing the aura of heaven and nourishment nature of the soil, accumulate what is the most quintessential to nourish the tree.
Now, after 20 years of conservation, the precious ginseng Ngoc Linh Kon Tum has been officially announced to develop with many special preparations such as ginseng, ginseng extract, ginseng tea, Ngoc Linh gin in honey. . And also fresh ginseng.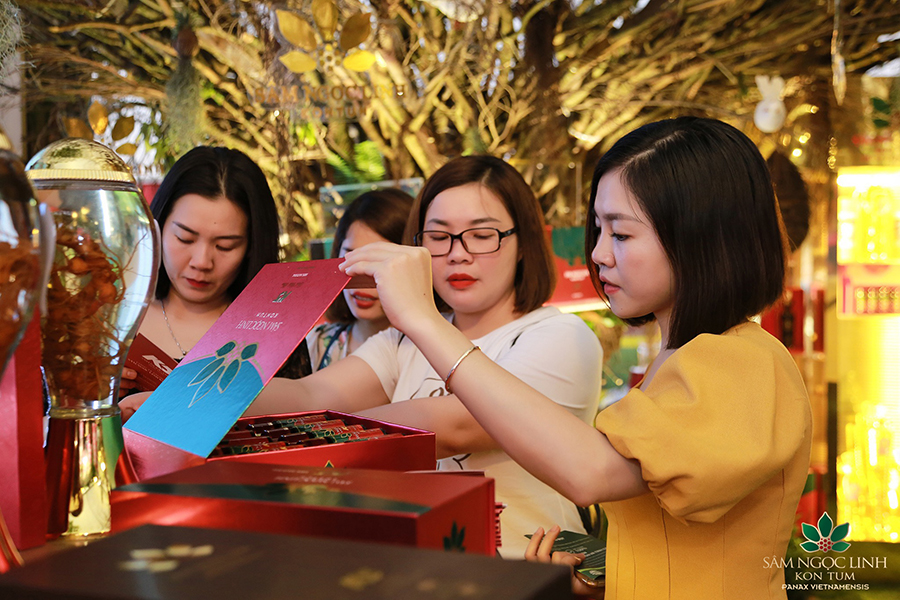 This is also the second time that Ngoc Linh Ginseng Kon Tum has been widely introduced to the capital public. Earlier, in January 1.2019, the exhibition displayed "Cultural heritage: Ngoc Linh Ginseng Kon Tum – Treasure of great thousands".
Speaking at the Opening Ceremony, Prime Minister Nguyen Xuan Phuc called Sam Ngoc Linh Kon Tum the "National Treasure" of Vietnam.
Minister of Health Nguyen Thi Kim Tien also visited the booth of Sam Ngoc Linh Kon Tum within the framework of the First Fair of Medicines and Traditional Medicine and Pharmacy products and appreciated the precious ginseng. of Kon Tum mountain forest.
At the Fair of Medicinal Materials and products of traditional medicine and pharmacy for the first time, the public will also admire the tens of years of ginseng taken from Kon Tum mountain forest, and buy products from Sam Ngoc. Kon Tum Spirit with preferential prices.
M.A