Known as the leading ginseng in the world, Ngoc Linh Ginseng Kon Tum is a rare medicinal herb with a large and capable saponin content. support effective treatment of cancer. This has been confirmed by a series of scientific research works around the world.
Why Ngoc Linh ginseng is more rare than other ginsengs?
Unlike some types of ginseng from Korea, Korea or Europe and America that often grow in the tropical climate, ginseng Ngoc Linh Kontum grows in tropical climate conditions, under the primeval forests in the higher mountainous areas 2500m, it is the difference in natural conditions that makes Ngoc Linh ginseng more active than other ginseng.
To evaluate the value of any ginseng, scientists often rely on saponin compounds. The larger the saponin compound in ginseng, the more diverse and special, the higher the value of that ginseng. Ngoc Linh ginseng and Korean ginseng, Korea are 2 types with saponin belonging to dammaran frame with high amount and content of ginsenosid. However, only Ngoc Linh ginseng has ocotillol-style saponin dammaran with the content of majonosid R2 accounting for more than 50% of saponin content in ginseng. This has created a superiority in the treatment of Ngoc Linh ginseng compared to other ginseng types.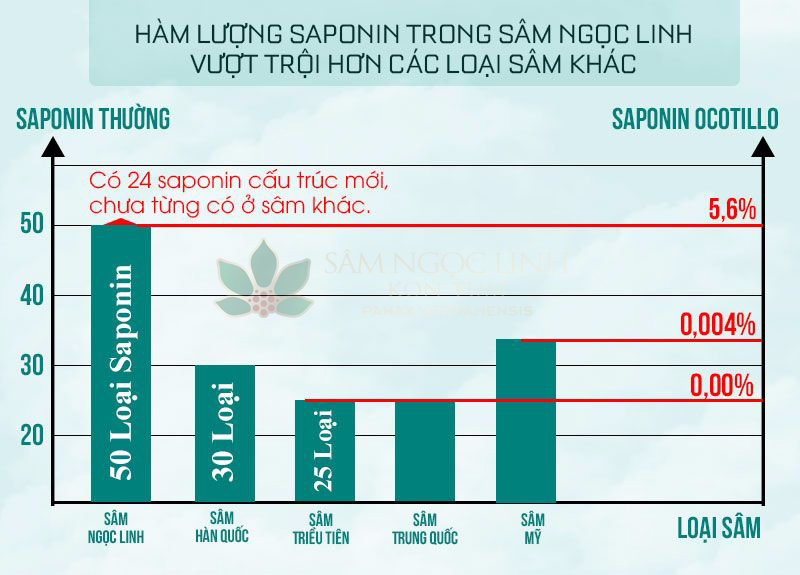 The saponin content in Ngoc Linh ginseng is superior to other ginseng varieties
How does the active ingredient of saponin Ginsenoside in ginseng work for cancer?
Cancer cell inhibition.
Scientific analyzes all over the world have shown that Ngoc Linh Ginseng contains the major active ingredients ginsenosides Rg3 and Rh2 . This is an ingredient that inhibits and controls the proliferation of cancer cells. When entering the body, the active ingredients ginsenosides Rg3 and Rh2 are capable of causing the process of apoptosis – causing cell death. So if you use large doses, you can normalize cancer cells into normal cells.
Research of Teacher of the Nine Dhamma Bao (Bach Mai Cancer – Universal Science), the active ingredient ginsenoside also helps increase white blood cells, red blood cells, increase the amount of blood for patients in the stage treatment. Because radiation therapy destroys part of the cancer cell, it also kills part of the white blood cells. Therefore, using Ngoc Linh ginseng helps supplement red blood cells, white blood cells, limiting anemia for patients.
The process of supporting cancer treatment of Ngoc Linh Ginseng
Enhance immunity
The effect of strengthening the immune system, strengthening the strength and physical strength when using Ngoc Linh ginseng has been confirmed by the studies of: Institute of elderly health research; Hospital 175 Hospital Ho Chi Minh City and Ho Chi Minh City Nursing Institute. Accordingly, the saponins in Ngoc Linh Ginseng support against infection caused by parasites. These types of saponins, when introduced into the body, help strengthen the immune system, support against and protect bacteria, viruses from entering the body, and enhance resistance to disease.
In addition, the above studies also showed that the active ingredients in Ngoc Linh ginseng coordinate effectively with antibiotics in supporting cancer treatment, reducing fatigue for patients and improving chemical adaptability. treatment, radiation therapy.
Act as an antioxidant
For cancer, the sugar-free part of saponin acts directly like antioxidants, neutralizing free radicals – minimizing the cause of cancer at the cellular level; Support patients to reduce pain. In addition, this active ingredient also helps increase the vitality for patients, helps patients eat well, sleep better, enhance mental strength, strengthen resistance, prolong life time for patients.
Ngoc Linh Ginseng, although not able to cure the root of cancer, is capable of slowing the growth and metastasis of cancer cells in the body, enhancing health and prolonging life for people. disease, support to prevent cancer cells from destroying other organs.
Using Ngoc Linh ginseng for cancer patients
Ngoc Linh Ginseng is a benign herb that can be used for young children to the elderly at doses of 50mg – 200mg / 1kg of body weight. Clinical studies for patients with end-stage K, if taking 30gr-40gr ginseng Ngoc Linh / day will minimize the pain for patients. Ngoc Linh Ginseng is used for cancer patients according to the following methods:
Instructions for using Ngoc Linh ginseng for cancer patients
1- Ngoc Ngoc Linh restrains tea : Slice slices of ginseng into the kettle, pour boiling water and stop for 5 minutes. Make water many times to drink during the day, eat the whole meal. or use the product Ngoc Linh Ginseng tea .
2- Ngoc Linh Ginseng is directly sucked : Slice the ginseng into thin slices, suck in the mouth until tender, then chew and swallow. Everyday divided into many times.
3- Sam Ngoc Linh cook porridge : Ngoc Linh Ginseng slices and sharpens it into water and adds rice to cook porridge as usual.
Ngoc Linh Ginseng is soaked in honey: Ginseng is cleaned, sliced, put into glass jar, poured honey and soaked for 1 month. Each time you mix with warm water to drink.
In addition to using Ngoc Linh ginseng combined with chemotherapy, radiotherapy, patients need to maintain a healthy lifestyle, ensure a scientific diet, regular physical training, stay away from the effects body harms: stimulants, food is not clean, environmental pollution …
Other effects of Ngoc Linh ginseng
In addition to the excellent effect of supporting cancer treatment, Ngoc Linh ginseng also brings many benefits to the body.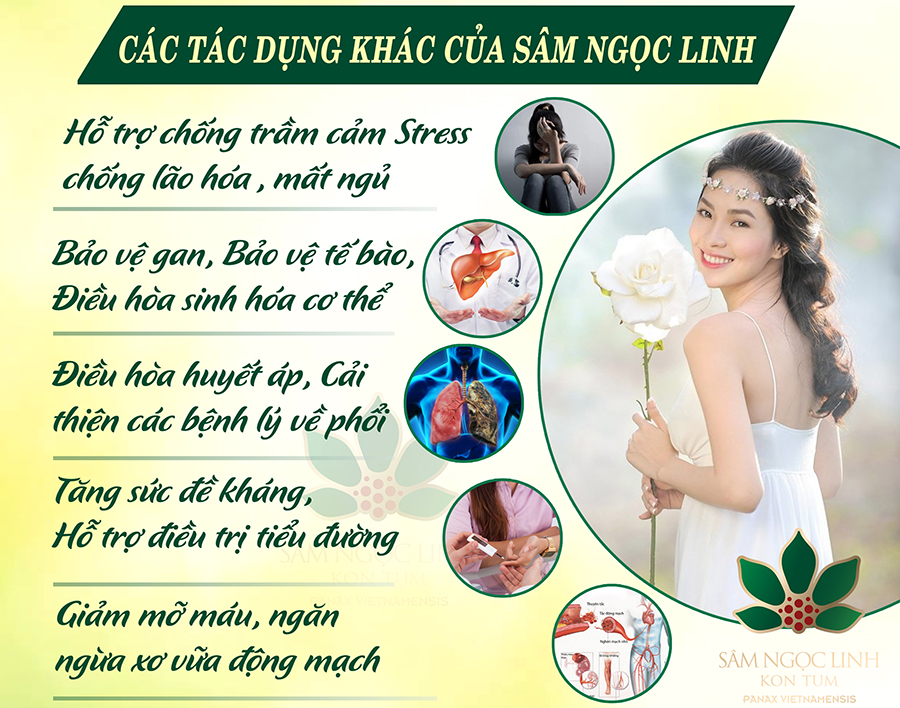 Other effects of Ngoc Linh Ginseng
According to Assoc.Prof.Dr. Nguyen Thoi Nham , who introduced Ngoc Linh ginseng at scientific conferences in the US, Japan and Canada, this ginseng also has antimicrobial and antidepressant effects. reduce stress, effectively coordinate with diabetes antibiotics … that other types of ginseng cannot have.
Dao Kim Long pharmacist – who discovered Ngoc Linh ginseng, affirmed that this herb helps to increase energy, restore impaired functions, protect cells from toxins, increase hyperplasia Generate new cells and prolong life for cells.
Experimental studies of the Ly Ly Center of Vietnamese Ginseng have concluded that using Ngoc Linh Ginseng helps the body increase resistance, improve biochemical indices, improve birth depression. sex, regulate blood pressure, increase resilience for patients after surgery, reduce sore throats and lung diseases ….
According to Dr. Nguyen Ba Hoat , Deputy Director of the Vietnam Institute of Medicinal Materials, experimental pharmacological studies show that Ngoc Linh ginseng has anti-aging effects, protects liver cells, and increases vision. force and intellectual activity, increase body resistance …
No need to look far away, Ngoc Linh ginseng is in the land of Kon Tum is a herbal treatment for cancer that nature has bestowed on our country. Regular use of Ngoc Linh ginseng is a solution to help prevent cancer and other diseases effectively. Ngoc Linh Ginseng is now very rare, so not any address has standard ginseng. Customers who buy goods need to consider carefully the addresses of selling Sam Ngoc Linh.
To learn more about Ngoc Linh Ginseng, please read the article: Introduction to Ngoc Linh Ginseng
Ngoc Linh Ginseng Joint Stock Company Kontum:
The factory is built with a professional staff trained by foreign experts, with high technical expertise along with the most advanced production lines.
Agent and Showroom:
⛪️ Kontum: 135 Le Hong Phong, Quyet Thang Ward, Tp Kontum.
⛪️ Ho Chi Minh: 2B – Bach Dang, Ward 2, Tan Binh District, Ho Chi Minh City.
⛪️ Ho Chi Minh: 132 Dong Nai, Ward 15, District 10, Ho Chi Minh
⛪️ Hanoi: 216, Tran Quang Khai, Trang Tien, Hoan Kiem, Hanoi.
⛪️ Daklak: 49 Phan Boi Chau, Buon Ma Thuot city, DakLak.
⛪️ Gia Lai: 28 Nguyen Van Troi, Gia Lai.
⛪️ Da Nang: 113 Nguyen Van Thoai, Da Nang.
⛪️ Nghe An: Cua Tien Home Apartment, Vinh Tan Ward, Vinh City, Nghe An
☎️ Hotline: 0945.165.165 – 02603.88.99.88
? Website: https://samngoclinhkontum.com